selama ini wiken gue selalu dipenuhi oleh laporan laporan lalala atau apalah inilah itulah
tapi kemarennnnnnnnn i
REALLY
had
my
weekend yoohohoooooooo
kemaren gue seharian ama tjhoen, kita pertama makan sushi joobu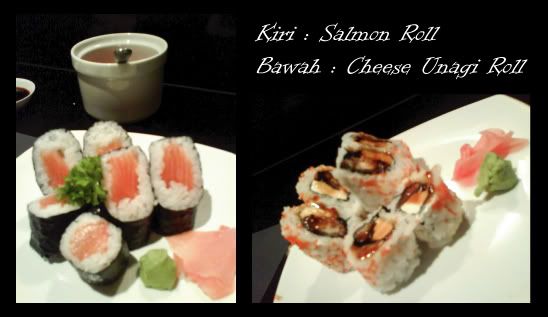 picture taken from here
kita pesen 4 menu. yang 2 tuh ada cheese cheesenya gitu, yang dua lagi engga
yang ada cheesenya itu yeeeeeeee ga sante bener. cheesenya ada kali setengah isi sushinya hahahahaha busetttt sampe sampe gausah pake kecap asinnya juga udah asin alami hahahaahhah
ngomong ngomong soal kecap asin, dia ngasihnya permangkok kecil itu loh, jadi ga dikasih botolnya ): sedih deh kan gue kalo makan kecap asin suka barbar haahhahahahaha
trus abis itu enaknya makan disini, tempatnya bagus gitu trus mbak mbak mas masnya baik baik. minumannya gratis :9 yummmmmm hahahahaha ada ocha, teh sama aer, dingin panas pokoknya gratistististis mau nambah sampe kembung juga tetep gratisssssssssssss hahahahahaahhaah
harganya sih hmm. gimana ya ahahahaa agak diatas sushi tei sedikit sih kayaknya. ya relatif sih actually, im not really good at comparing food prices as they depend on how they taste hahahahahaha hmm tapi dia diskon 10% gitu, trus begitu lu bayar, dapet struk kan. nah di struknya itu ada voucher diskon 30% buat 3 hari mendatang hahaahhahaah mantab :9
jadi gue makan kemaren, gue dapet diskon 30% sampe tanggal 2juni yohooooo
dan tadi gue baru tau kalo selama tanggal 19-23 mei dia diskon 30% -___________- nyesel deh
abis itu kita nontonnnnnn......................
THE LOSERS
hahahahahahahah anjerrrrrrrrrrrrrrrr keren bener deh gue ngga bohonggggg seriously you must
must
must
must
watch this film yuhuuuuuuuuuuuuu
especially for girls because in this film, chris evan was awesomely HOT hahahahahahahhahhahhaha omaigat banget deh hahahahaahhahahahahaha
anyway the storyline juga bagus kok, ga kacangan sama sekali haahaha dannnnn sangat unpredictable yuhu nonton nonton nonton!
and another the-must-watch-movies by us are :
apalagi ya kayaknya kemaren ada banyak ahahahahahahahaha
yaudah trus ke gereja rame rame trus makan nasi goreng rame rame sambil nonton tipi hhahahahahah
wooohoooooooo i love life.